---
Share
CPB receives numerous SBA Lender of the Year awards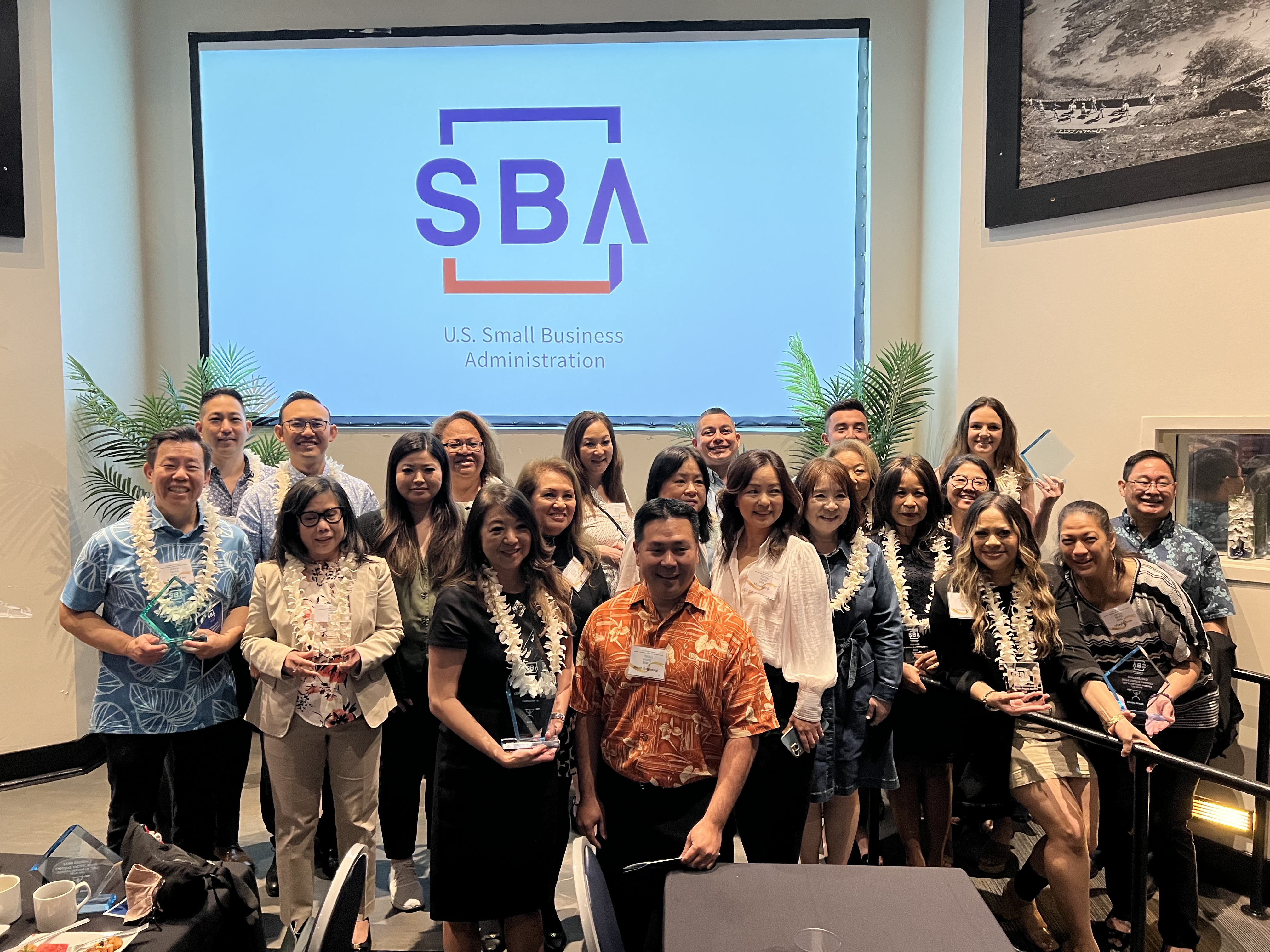 HONOLULU, HI (March 8, 2023) – Central Pacific Bank (CPB) is proud to announce it received the most awards and recognitions of any local bank from the U.S. Small Business Administration's (SBA) Hawaii Pacific-Islands District Office including Lender of the Year Category 2 for 2022. CPB is honored to receive this award 13 times since 2007.

According to SBA Hawaii Deputy District Director Hazel Beck, "SBA's Lender of the Year awards recognize financial institutions that have approved the highest number of SBA-backed loans in a given fiscal year. Central Pacific Bank set the pace in 2022 for the number of loans it originated for its customers. Congratulations to CPB!"

In addition, CPB was recognized as the Lender of the Year for the most loans provided to veteran owned businesses.

CPB employees were also awarded 16 of the 18 individual SBA Lending Officer of the Year categories including the following.

SBA Lending Officer of the Year Awards:
OAHU

GOLD – Amy Flores, CPB
SILVER – Lori Honda, CPB
SILVER – Gaylin Enos, CPB
BRONZE – Terry Tanaka, CPB

MAUI

GOLD – Chelsey Covington, CPB
GOLD – Pat Matsumoto, CPB

WEST HAWAII
EAST HAWAII
HONORABLE MENTION

Joy Agni, CPB
Sandy Falemaka, CPB
Jessica Helsham, CPB
Chasen Kim, CPB
Mat Shibata, CPB
Shelly Sung, CPB
Shayla Tauanuu, CPB
Marife Yamamoto, CPB
Supporting small business is part of our heritage and is also one of CPB's core pillars. They are the backbone of our community and play a key role in driving our local economy," said CPB President and CEO Arnold Martines. "I am grateful for the recognition from SBA and am extremely proud of everything our CPB employees accomplished on behalf of our customers."

In fiscal year 2022, CPB financed 75 total 7(a) loans for more than $3.7 million, more than all other banks in the region and category combined. The next highest total from an individual financial institution was six loans. SBA 7(a) can be utilized for a variety of reasons including providing necessary capital to grow operations, refinancing outstanding expenses, or purchasing equipment or supplies.

The awards were announced in a ceremony held Monday, March 6, 2023.
# # #
About Central Pacific Bank
Central Pacific Financial Corp. is a Hawaii-based bank holding company with approximately $7.43 billion in assets as of Dec. 31, 2022. Central Pacific Bank, its primary subsidiary, operates 27 branches and 64 ATMs in the state of Hawaii. Central Pacific Financial Corp. is traded on the New York Stock Exchange (NYSE) under the symbol "CPF." For additional information, please visit: cpb.bank