The Legacy of Central Pacific Bank
The Legacy of Central Pacific Bank
FOUNDED BY HEROES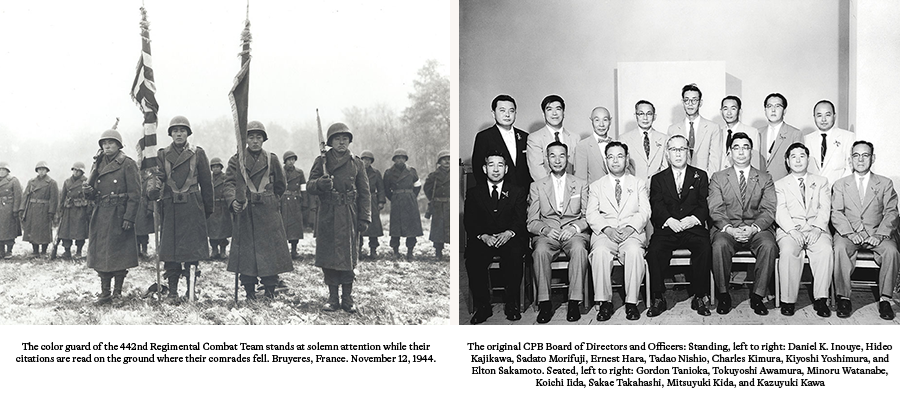 Life in Hawaii after World War II continued to revolve around the plantation-based agricultural economy. For the many immigrant laborers struggling to give their families better lives, it was almost impossible to obtain loans to buy homes or to start businesses.
A group of young, Japanese American veterans who served in the legendary 442nd Regimental Combat Team, 100th Infantry Battalion, and Military Intelligence Service refused to accept the social inequities after World War II. These heroes, including future U.S. Senator Daniel K. Inouye, fought valiantly for their rights as Americans. But their fight was far from over.
So in the early 1950s, this inspired group united to pursue a new dream: to create a bank that would serve all of Hawaii's people.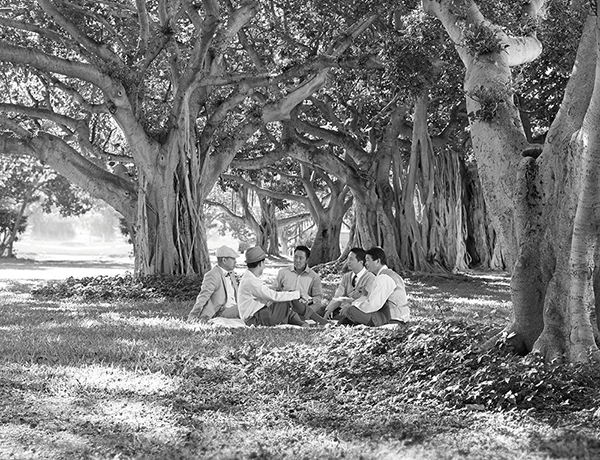 OVERCOMING OBSTACLES
The young nisei (second-generation Japanese Americans) began meeting regularly at Ala Moana Beach Park to pursue their vision, planning as they ate 50-cent plate lunches under the banyan trees.
Owning nothing more than their dream and "Go For Broke" spirit, they formed alliances with local issei (first-generation Japanese immigrants) business leaders. They also turned to local residents to raise the needed capital to start a new bank. The grassroots campaign was met with such overwhelming enthusiasm that they raised nearly double the necessary amount within just a few months.
However, the Territory of Hawaii deferred the approval of a bank charter because there were no qualified persons to manage the bank. An exhaustive search for a bank manager was unsuccessful. The situation was bleak. But the leaders of Sumitomo Bank of Japan were touched by the efforts of these young pioneers. Kazuo Ishii, who had opened Sumitomo Bank's San Francisco office, came to Hawaii to manage the bank in 1953 and later served as the bank's president.
Central Pacific Bank received its charter on January 29, 1954.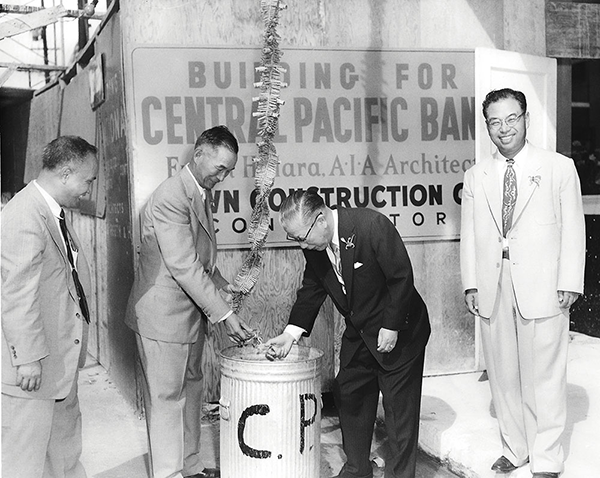 A LEGACY OF CHANGE
Central Pacific Bank opened its doors to the sound of 10,000 fireworks in downtown Honolulu on February 15, 1954. Overcoming formidable odds, CPB was the first bank to open in Hawaii since 1935.
From its humble beginnings, born under the Ala Moana Beach Park's banyan trees, Central Pacific Bank's visionary founders provided local residents new opportunities and new hope. With just nine employees, the first year of operations generated $5 million in deposits and $6.4 million in assets.
Central Pacific Bank was a catalyst for social and economic change in Hawaii. Today, CPB continues to be a catalyst for change for a new generation in an ever-evolving world. Central Pacific Bank proudly carries on the legacy of its forefathers to serve all of Hawaii's people with aloha.
Board members celebrate with a traditional Chinese ceremony at the bank's official opening on February 15, 1954.