---
Share
Central Pacific Bank Foundation Donates $100,000 to Support Wahiawa General Hospital's Frontline Battle Against COVID-19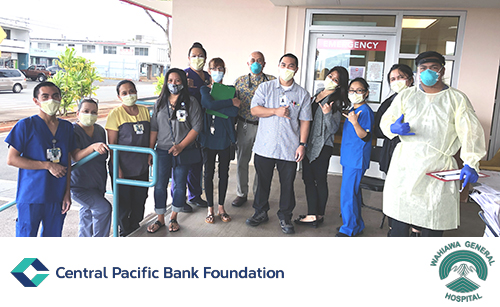 WAHIAWA, HAWAII – The Central Pacific Bank Foundation has awarded Wahiawa General Hospital (WGH) a $100,000 grant to help address the unprecedented challenges the healthcare industry is facing due to the coronavirus pandemic. The funds will help WGH increase frontline medical response capacity as well as provide ongoing financial support in the months ahead.
"For over 70 years our hospital has been serving the communities of Central Oahu and the North Shore, so we are incredibly grateful to the CPB Foundation for helping us continue delivering on that promise," said Brian Cunningham, Wahiawa General Hospital's Chief Executive Officer.
"We are proud to support Wahiawa General Hospital especially during this unprecedented time to ensure essential services are available to those who need it most," said Paul Yonamine, Central Pacific Bank Chairman. "We are grateful to all frontline workers, especially healthcare professionals, who are working hard to keep Hawaii safe and healthy."
The impact of the COVID-19 health crisis is far reaching and complex, and the grant is part of the CPB Foundation's commitment to supporting emergency response efforts across multiple sectors in Hawaii.
"On Oahu and across the entire State, Central Pacific Bank remains committed to helping our local communities in a variety of ways as we all navigate personally and collectively to address this pandemic," said Catherine Ngo, Central Pacific Bank President.
Wahiawa General Hospital is a vital resource to the residents and communities of Central Oahu and the North Shore, providing emergency medical services, acute/critical patient care, as well as long-term and skilled nursing support to over 20,000 patients annually.  
"This gift will go a long way in providing our frontline staff with the necessary equipment and supplies needed to safely care for the communities we serve," said Cunningham. 
About Wahiawa General Hospital:
Established in 1944, Wahiawa General Hospital's licensed 42-bed acute care facility and 115-bed long-term care facility is staffed and equipped for multiple levels of patient care. As a nonprofit organization the mission is to bring the finest technology and personal care to the communities we serve. Founded on the need for emergency care that began during World War II, Wahiawa General Hospital continually strives to be the healthcare provider of choice for Central Oahu and the North Shore.
For more information about Wahiawa General Hospital please visit our website at www.wahiawageneral.org or call us at 808-621-8411.