---
Share
Grab Some Local Takeout, Split the Bill with Central Pacific Bank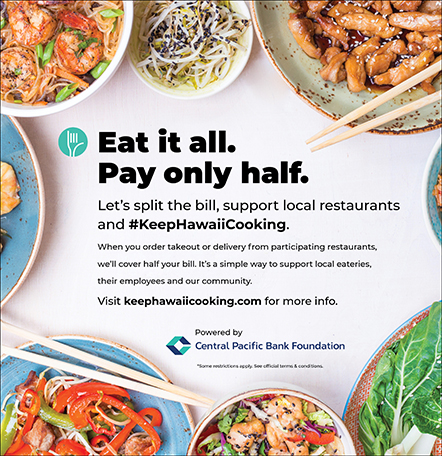 New #KeepHawaiiCooking social media campaign aims to help Hawai'i restaurant owners and employees stay afloat in challenging times by reimbursing diners 50% of their meal costs at participating restaurants.
HONOLULU, HI | March 27, 2020 – Hungry to order up something deliciously awesome to eat, keep a safe social distance while doing so and save some money on your meal, all while doing our Hawai'i restaurant community some serious good? What if we told you that in one fell swoop you could:
Get takeout, drive-through or delivery from some of your favorite Hawai'i restaurants and eateries …

Help their owners stay open and their employees continue to earn income to support their families …

Keep our restaurant industry cooking until this crisis is over, and finally …

Get 50% off your bill when you buy food from them.
Sound appetizing? Then let #KeepHawaiiCooking sate you and your desire to do good.
It's a new social media initiative from Central Pacific Bank (CPB) and the Central Pacific Bank Foundation aiming to help local eateries and Hawai'i residents stay positive and get through the coronavirus crisis. Simply put, we want to help residents in our communities stretch their food dollars further, and make sure our local restaurant business customers not only survive but more importantly thrive again when all of this is over.
"With #KeepHawaiiCooking, we're looking to incentivize the community to help our restaurant clients and their employees stay afloat under very challenging times for their industry, while also saving residents some money when they choose takeout, delivery or drive-through," said Paul Yonamine, Central Pacific Bank chairman.
"The best way for all of us to get through these tough times will be doing so together, as a community. We hope that after hearing about and experiencing the #KeepHawaiiCooking program for themselves, others in our community will be encouraged to create concrete, positive ways to help as we lean on each other to get through this together," added Catherine Ngo, Central Pacific Bank president.
And here's how you can help us do just that through your love of great food, your care and concern for our community, and checking out and utilizing #KeepHawaiiCooking.
First up, visit the #KeepHawaiiCooking website at www.keephawaiicooking.com and find a place to eat from our listing of participating restaurants. Order your favorite eats from the restaurant menus and pick your food up as takeout, drive-through or have it brought to your home by delivery. Then, before you dig in, snap two photos for us: one of your tasty, eye-appealing meal, and one of your receipt. After that, go ahead and eat. We'll wait.
When you're done eating, post your food photo to any one of your social media accounts on Facebook, Instagram or Twitter following the tagging and hashtag instructions on the #KeepHawaiiCooking website. (Photo posts only please. Posts on Instagram Stories and Facebook Stories will not be accepted.) Then send a Direct Message (DM) from your social media account to @keephawaiicooking if you're using Facebook or Instagram, or @keephicooking on Twitter, with a photo of your receipt and you will be reimbursed for all eligible entries. It's that simple!
Central Pacific Bank Foundation will reimburse you 50% of the bill for your takeout, drive-through or delivery of food – up to $100 per order – as a mahalo to you for helping us support Hawai'i's restaurant community as it navigates challenging times. We'll send your reimbursement to you via PayPal – if you don't have an account with either of these money-transfer programs, you will need to create one. Best of all, the #KeepHawaiiCooking program is available for everyone – not just Central Pacific Bank customers – to use, so tell all of your family and friends to check it out, too! Central Pacific Bank Foundation will keep the promotion going until we give $100,000 back to the Hawai'i community.
"The #KeepHawaiiCooking program is just one of many ways Central Pacific Bank and the Central Pacific Bank Foundation are trying to creatively and thoughtfully offer real-world help and solutions to our customers and all of Hawai'i's residents," added Ngo.
So, go ahead and grab seared meatloaf with truffle mushroom gravy takeout or any of the daily specials at Gochi Grill. Get your favorite chicken sandwich or family meal from your neighborhood Popeye's Hawai'i drive-through. Support a social enterprise like Touch A Heart Hawai'i, which is offering five-meal dinner packs for the week. Or order home delivery from Elena's in Waipahu, Maui Mike's Fire-Roasted Chicken in Wahiawā or Miyo's in Hilo.
The more you order through the #KeepHawaiiCooking program, the more you'll save on your family food bill and help Hawai'i restaurant owners and employees keep food on their family tables.
For everything you need to know about how to begin helping Hawai'i's restaurant industry, and start eating and saving with #KeepHawaiiCooking, visit the program's website at www.keephawaiicooking.com.