More seating available.
In compliance with Honolulu's Tier 3 reopening strategy, we have made more seating available. Tables continue to be socially distant at 6 ft apart and guests are required to wear a mask in public spaces unless eating or drinking.
TAKE A VIRTUAL TOUR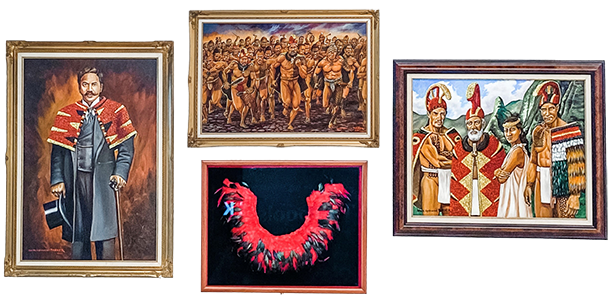 New artwork on display.
A new art installation is available for viewing in our gallery space, PA'I Arts at Kou. The exhibit titled `A`AHU KOU I ka nui manu features artwork by Kānaka Maoli artists Brook Kapukuniahi Parker and Kāwika Lum-Nelmida. These pieces will be displayed until July and are available for sale through PA`I Foundation (808) 844-2001 or email [email protected].
Hawaii artists are encouraged to submit their work to be considered for upcoming exhibits. The PA'I Arts at Kou selection committee is reviewing submissions through September 1, 2021.
SUBMIT YOUR ARTWORK

Coworking tips: how to maximize your visit
If you're accustomed to working in an office setting with privacy, noise control, and distraction-free zones, open seating workspace might take getting used to but offers a worthwhile change.
Want to make the most of your Tidepools visit? Try these tips for a successful experience.
Come with a plan of what you want to accomplish
Stay on track by setting time for concentration and for taking breaks
Bring headphones to stay focused
Experiment with different seats – find inspiration near a window or motivation by setting your sights on Aloha Beer!
Join our community at #cpbtidepools to connect with other professionals and find out what's happening in the space. Use the hashtag to share your coworking tips and networking success stories or just share your favorite Tidepool pics!

Free training for nonprofits.
The Hawaii State Bar Foundation is offering free training to help nonprofit organizations interpret grant, safety and other compliance responsibilities flowing from federal pandemic relief. Session 1 focuses on PPP form completion and more training is in the works.
SEE TRAINING

Tech-enable your business
Want to be more tech-savvy? TRUE, an initiative launched by the Hawaii Executive Collaborative, is creating pathways for businesses to accelerate their adoption of technology.
VIEW USE CASES

Join the Rising Tide.
Browse our small business directory and support local entrepreneurs, makers, and artisans who need the community's help to stay afloat during these challenging times. Business owners can also list their business in the directory to help introduce new customers to your products and services and remind current customers that you're open for business.
HELP LIFT LOCAL BUSINESSES

Not yo' average nacho / Chip chip hooray / Nacho average snack
Find yourself googling "nachos near me"? Search no further and make your way to Aloha Beer Downtown for their newest menu item: Spicy Poke Nachos! Crisp tortilla chips are topped with fresh market spicy poke, furikake, pico de gallo, mashed avocado, jalapeño, green onions, and a spicy mayo drizzle. A delicious snack that begs to be paired with a refreshing pint.
Monday through Thursday from 2pm to 5pm, enjoy $2 off any beer and select food items and cocktails. Or if you're meeting for pau hana, receive free parking validation from 4pm to 8pm with any $10 purchase.

Mahalo for keeping Tidepools a safe place to visit and work!
Our top priority is the health, safety, and experience of visitors, team members and retail partners. Before visiting us, please review these guidelines.
A face mask is required at all times unless eating or drinking.
A temperature check is required prior to using our reserved conference rooms.
Continue practicing social distancing.
Practice good hygiene. Hand sanitizer stations are available throughout the space.
If you're not feeling well, please stay at home.

Tidepools Hours of Operation
Monday 7:30am - 4:00pm
Tuesday 7:30am - 4:00pm
Wednesday 7:30am - 4:00pm
Thursday 7:30am - 4:00pm
Friday 7:30am - 5:00pm
---